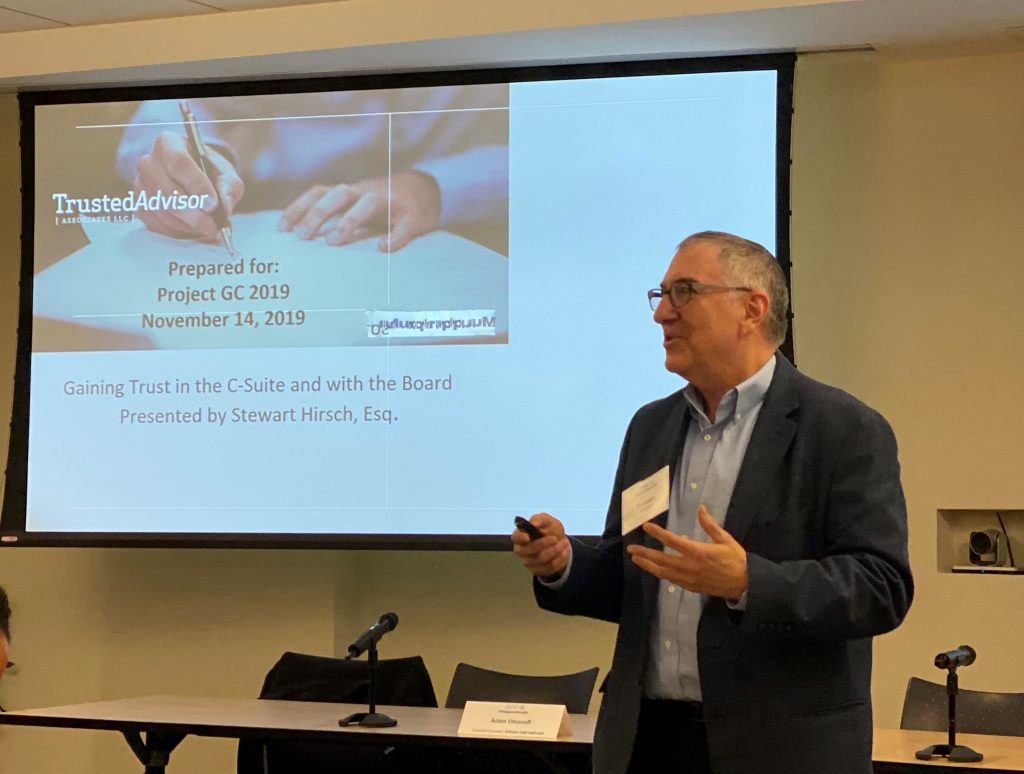 All workshops are custom-designed to fit the firm's objectives.  The design is created collaboratively with a firm representative with the goal of providing a successful workshop, as defined by the firm.  Workshops are highly interactive, and often include role-plays and robust discussion.  While workshops can help those providing professional services, Stewart is available to work with the firm to develop or implement follow on internal or external coaching to make it stick.
The topics and descripion list below represents typical workshop topics that can be delivered as desired. Some potential options:
Single Topic Workshops: Designed for lunch and learn or specific needs, single topic workshops are usually 45-90 minutes long depending on the time available and level of interaction desired.
Series for Small Groups:In 4-6 sessions of 2-3 hours each, groups of 5-10 professionals participate together in workshop training, with assignments between workshops and coaching if desired.
Retreat Workshops: Interactive learning half-day or full-day retreats combining the topics below and other areas created for the retreat.
Workshop Topics and Descriptions
How to Network and Why. Learn Strategic Relationships' Guiding Principles of networking. Discover a simple, yet effective basic framework for marketing and increasing your client base. Find out how to motivate others to help you. This session includes important tips and tools for follow-up and setting next steps.
Network in a Crowd (and Still Feel Good About Yourself)™. Learn attitudes and skills and a step-by-step process to meet and communicate with business associates and strangers. Learn what to say and do, and how to follow-up. This will help at those association meetings and firm-sponsored events where you're supposed to talk with complete strangers and establish new business contacts.
Create an Effective Marketing Plan. Using proprietary forms Strategic Relationships has developed, learn to set realistic short- and long-term business-development goals. This hands-on session focuses on increasing work from existing clients – and setting next steps with referral sources and prospective clients. This session includes cross-marketing training.
Leveraging Relationships. Develop a strategy for identifying potential business contacts and referrals, and for maximizing relationships with existing clients. Learn what to do at the networking lunches and dinners you go to with business associates.
Cross-Selling Down the Hall and Across the Country. Whether you have a substantial client that may need your partners' services, or your partners have clients that need for your services, nothing happens unless you focus on the opportunity, talk about it, and agree on what to do. Learn how to recognize these opportunities, and how to secure them. This workshop can be formatted as a half-day retreat, with advance preparation. Lawyers leave with practical follow-through items.
Talking Your Way into New Business™. Learn how to turn speaking engagements into clients. The podium builds your credibility for the networking you MUST do before you step up and once you step down. A three-step approach (planning, presenting, and following up).
Overcoming Personal Barriers. Learn how to get out of your own way and unleash your natural marketing potential. When you start to market your service, the excuses can stop you in your tracks — lack of time, discomfort with selling, a procrastinating nature, gender blocks. Both men and women are reluctant to market – but in different areas and for different reasons. Attendees will be given a Reluctant Marketers' Survey to consider and an opportunity for volunteers to address the specific issues that bother them. Leave with specific strategies for overcoming self-inflicted barriers.
Asking for Business – what to do and what not to do – and when to do it. Learn how to close the deal when business is available. Theory is useful, but this session will be based on real situations brought by attendees (appropriately disguised to protect confidentiality, of course). What do you say? When do you say it? How to you get the potential client to move forward? These and more will be addressed.
Business Plan Boot Camp. This Boot Camp is a unique opportunity to both learn how to prepare a personal business plan, and to begin to prepare one's own plan. This is a working program – several participants are chosen in advance to be coached and develop their plans. After a brief best practices presentation, these participants will present their plans. Then all participants will prepare their own plans, giving them a head start to completing their plans after the program – either on their own, or with the help of a colleague.
Social Media For the Rest of Us. Social media is many things, including another tool to connect with people. Learn about virtual how to capitalize on LinkedIn, Twitter and blogging effectively. These tools can be used to jump start learning about clients, potential clients and referral sources. They can be used to enhance credibility, target opportunities and build relationships. Lawyers will increase comfort with social media, and not feel left behind. This is not a technical "how to" program, but rather an interactive workshop and facilitated discussion using the media.